So let's start off with the bad news first to get it out of the way…
"Email marketing databases naturally degrade by about 22.5% every year." – Hubspot
How can that be? The biggest reason is because people switch jobs, they retire, finally get a new email address because they are still using AOL, things like that.
Thankfully, GOOD NEWS is here to stay…
"The average expected ROI is $42 for every $1 you spend on email marketing." – Data & Marketing Association
Considering this statement, that is why the 'quality over quantity' phrase is so true! It does not matter if you have 10 or 200 people signed up to receive your email, what matters is their engagement. So although we are talking about how to grow in email marketing, we want to stress the importance of keeping your subscribers active as well.
In-Person
This could be word of mouth, a sign up sheet in a local business, attending craft shows or festivals in town, business cards, local events, the possibilities are endless! Human interaction is still very effective – it's harder for people to turn you down when you are standing in front of them. Who knows, they might actually like your company after they give it a shot!
Website
Email features have become more and more popular. However, you don't want to hound them for meaningless information. Keep it simple – name and email. You can find out details later after building a relationship with them! You can also get as creative as you want with it. Here is a simple example from Country Living: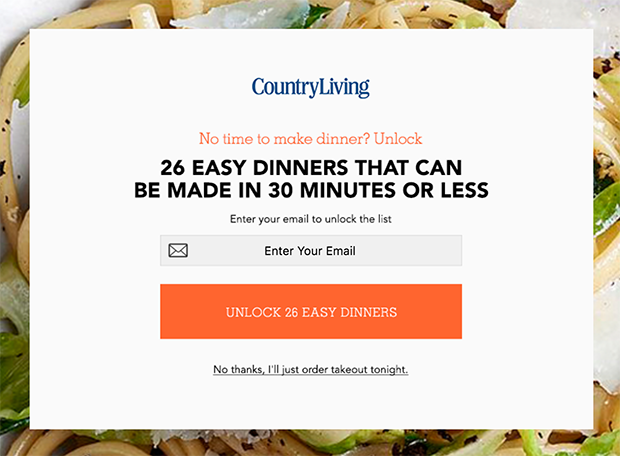 New Content
Whether it is a free online tool, resource, brand structure, contest or promotion, you can use a landing page to gather email addresses. You want them to see it as a 'bonus' to get something in return because let's face it, nobody does anything 'just because' if they aren't benefiting from it. While getting your new content out there to the Internet, you could also ask them for feedback from a live chat tool. This could be through social media or your website for people that have stayed on your page for a certain amount of time.
Social Sharing Buttons
For people to want to share your content, it has got to be top notch. When you are able to fine tune it, you'll have more confidence to encourage your subscribers to share on social media or forward your email to colleagues which makes it important to still include a Call to Action to subscribe in your emails (even though the people you originally emailed it to are already subscribed).
We hope these tips can help you get recognized in your community. Keep in mind that:
You're only as successful as your least engaged subscriber.
Thanks for reading and don't forget to keep up with us on our social media!
Feel free to look back at our previous posts for more content!
Always Looking Forward,
Shelby