Since we know navigating the Internet can be complicated, we came up with questions you may have regarding how to get your business on Google with answers for the experienced and unexperienced. So, here we go:
What is a Google My Business page?
It is a free tool offered by Google to set up a profile of your company, organization or business. It lets you manage how people will see your business when it shows up in their search and maps. If you have to, think of it as Google's version of a dating website. How can you make your business profile look the best it can be for the customers looking for your service or product?
What all does the profile include?
Business name
Location
Hours of operation
Photos/videos
Reviews
Delivery method
Contact info.
Website link
There is a lot more advanced information in there when you dig deeper, but this is a great place to start if you are just setting it up. You can go back in any time and move things around, update photos, change users, etc.
Check out these statistics from a UGA Small Business Development Center webinar I virtually attended: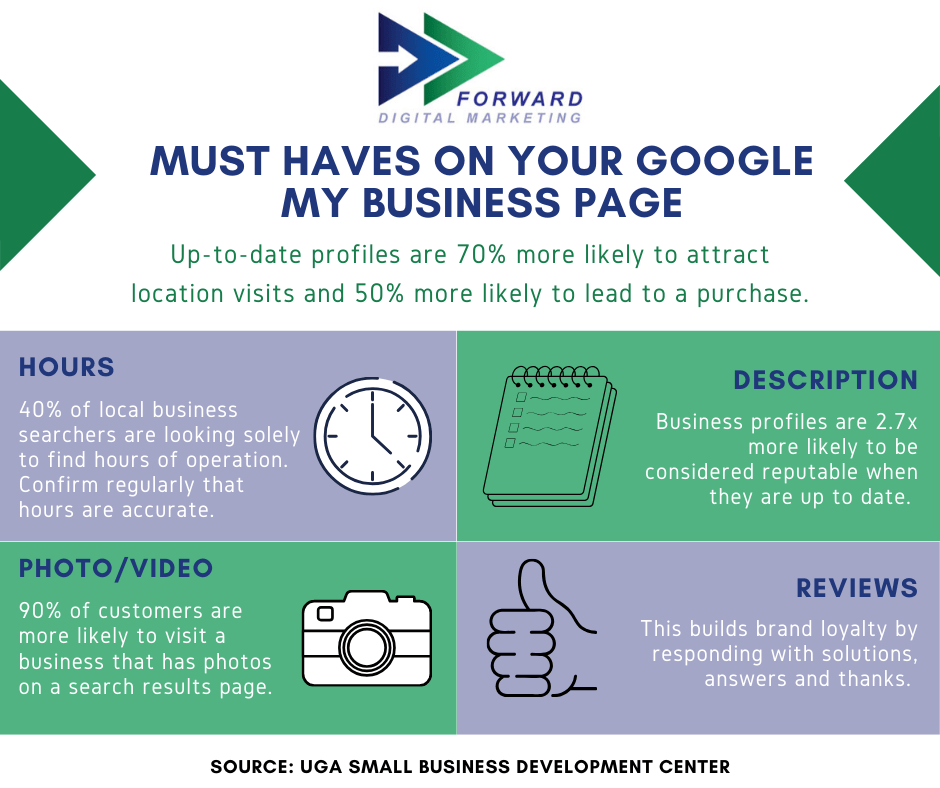 Do you have to have a Google account to create a Google My Business page?
YES! So if you already have one, sign in.
If not, you can find a blue box in the top right corner that says "Sign In" where you can create an account.
Next, you want to go to google.com/business where you can click on the "Start Now" button in the top right corner.
This is where you can find all the information you will enter that the public will be able to see on your business profile. It is important that this information is accurate and complete to effectively connect with your customers.
Which option should I choose to verify my GMB?
This can be different for certain types of businesses. Your options are:
Phone or email which would be the easiest.
Bulk verification shouldn't be an option unless you are verifying the same business in 10 or more different locations.
Postcard which is sent in the mail with a code you can use to verify your account.
Note: Some people also don't want to put their whole address on Google because they may work from home. So, if you choose the postcard verification, you will need to put your whole business address in for this method, but it will not be made public.
Another note: Google searchers will not be able to see your business if it isn't verified. This step is VERY important.
How will I go back into my GMB and make changes later on if I need to?
Once you sign into the Google My Business, you will see a sidebar on the left side. You can go through each tab and change or update your information from there. This includes:
Manage the users allowed on the account
Add events, updates or offers,
Enter wheelchair accessibility,
and a whole bunch more.
There is also an option for the public to suggest an edit that doesn't go through your google account to confirm that information. Check back regularly to make sure all your business information is correct.
Do I need the app on my phone?
Although it doesn't have a desktop version, it would be helpful to have handy in case your hours unexpectedly change. It can also be easier to upload recent photos from your phone to make a post instead of going onto your computer and uploading the images from there.
There is so much information to share because it can be a complex process. However, you should be good to go if you follow the steps above.
We wish you all the best in navigating your way through the Google My Business account process. As always, we are here to help if you have any questions along the way. When in doubt, you know that you can always do this: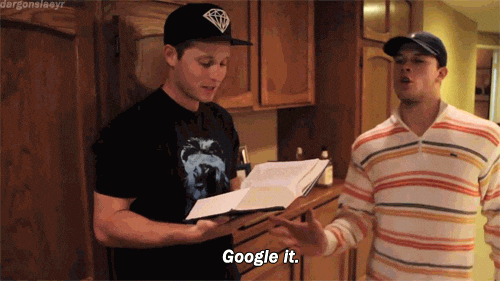 Don't forget to share and follow the links below to keep up with us throughout the week!
Always Looking Forward,
Shelby