Yep, that is right! Your Facebook contest is probably illegal… or at least breaking Meta standards and it can get you into a lot of trouble! We understand! Your friend of a friend started a new business and did a giveaway contest that got them found by a of of people! When you see that they are succeeding, you assumed you could just do it too! WRONG.
Meta Has Standards That Small Businesses Tend to Ignore
Don't be that business…
Small business do not have a lawyer on staff like large corporations, so often "legal" matters are not on the radar. That does not mean you are exempt! As a small or medium business owner you have even more to lose. You do not take home a six-figure paychecks. Often, you do not even see that yearly vacation! Running a small business is not for the faint of heart! That is why you have to check and recheck the standards to keep your business on the right tracks.
Can I Run A Social Media Contest?
Yes! Just Do it Right!
Running a giveaway or contest is a fantastic way to build followers and engagement for your brand. The excitement that consumers feel when they win is something is hard to match, and it is be a great way for your brand to stand out and be found! When you run a contest or giveaway, there are some techniques that make it even more successful.
Why Should I Run A Social Media Contest?
#1: Growth!
When you run a social media giveaway you are allowed to ask potential consumers to like or follow your brand. This obviously means that you are growing your network of individuals that can see your future content.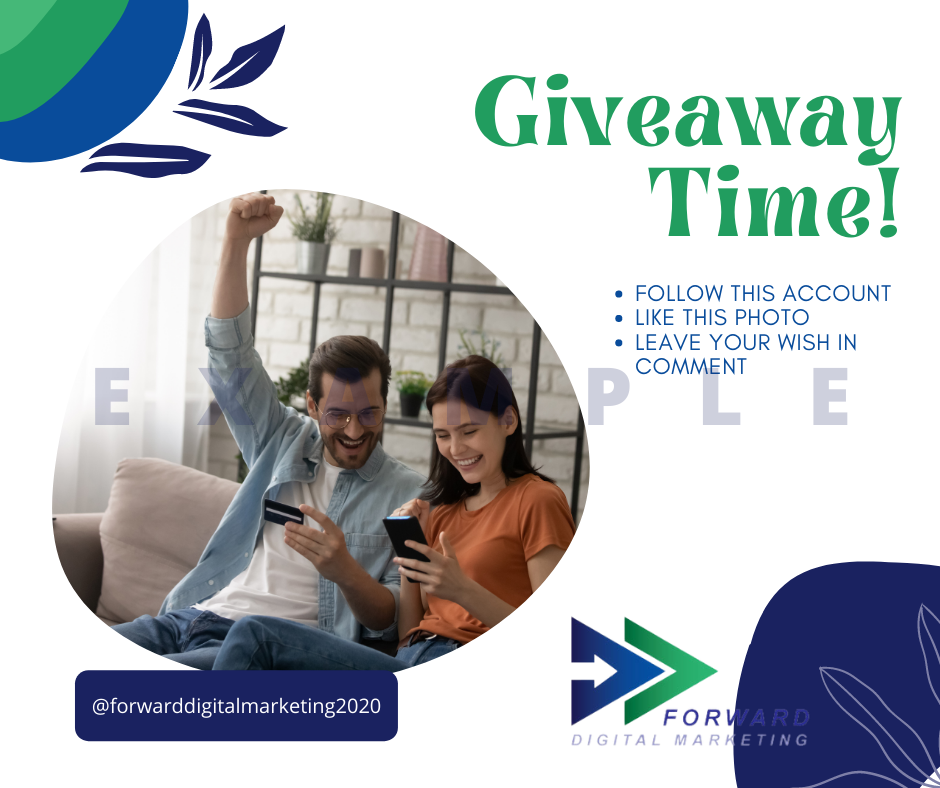 #2: Build Your Brand
Please the algorithm to be able to please your following! When your consumers like, share, and comment on your content, the algorithm learns to put your posts in front of people. When you run a giveaway with clear instructions to like and comment on the post, you are inviting consumers to engage with the algorithm so that they see your content in the future! Another great way to build your community is to work with other brands. Collaborate with other content creators to reach each other's audience.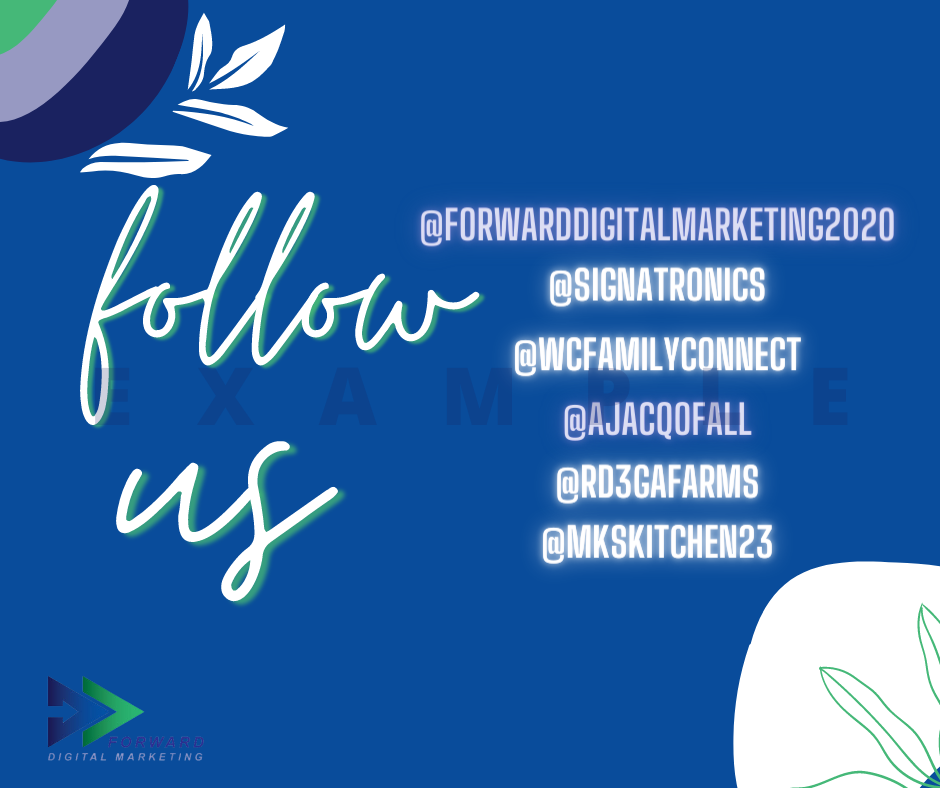 #3 Increase Your Email List
Email marketing is still king! Marketing campaigns in consumers inbox is the number one marketing technique that provides long-term success. So why not use your contest as a way to build email data? Adding the option to opt-in to your email list is a fantastic way to ensure that you can connect with your audience in the future, without stressing about algorithm changes.
#4 Jumpstart Engagement
Remember that the contest buzz will die; However that does not mean that your brand buzz has to die with it! Any giveaway will generate engagement with your audience, but it is important to keep that interest up after the prize has been handed out. Remember, Forward Digital Marketing would love to help you keep your content fresh… *hint hint* We can analyze your website and social media accounts for you to build a targeted contest for long term success!
How Do I Run A Social Media Contest?
Set Your Goals
If you do not plan, you will not win! At the end of the day, you need to define S.M.A.R.T goals to be able to measure the success of your giveaway. Define what you will accomplish with the contest. Are you looking for more followers? Do you want to convert more sales? Whatever your goal is, make sure it is something that you can go back to at the end and compare data. Remember, you can get creative with what you are collecting from your consumers. It does not always have to be likes or comments, but always remember that you are within the community guidelines.
Determine the Type of Contest
After you've set your goals, you can figure out which contest type will fit your brand best!
Want more followers? Then your contest can be based off of simply following your page or profile. Be sure that the person or account is still following you when you announce the prize winner! Often times we see people follow and then unfollow, tricking you into thinking they are eligible.
If you are looking to generate more leads, you can ask participants to enter their email to enter to contest. These can be collected through a landing page or a separate Facebook tab for your contest.
Another unique way to build participation is by running a "photo-competition!" To enter this type of contest, participants tag your brand in their own post. This method works on many different levels, but it can be hard to execute if your brand does not have an established reputation.
Set Your Prizes
Budget, budget, budget. You need to ask yourself (or your marketing department) how much are you willing to spend or giveaway? How often are you wanting to run these giveaways? Also, is there an advertising budget for your giveaway?
Learn Your Audience
To be even more successful, you should target your contest towards a specific audience. This will help that advertising budget stretch farther. It will also help ensure that your audience is genuine and will engage in the future, giveaway or no giveaway.
Knowing your audience also means you will know where to put your contest (and learn the rules that goes along with that platform.) It also means that you are being careful to not ostracize your current followers for potential entrants.
Run A/B Testing
Before you go to far, run an A/B test. An A/B test is when you create content that is exactly the same, except for one difference. Maybe you test which product your audience would prefer to receive. Or maybe you test which platform your contest would be most well received on. No matter what, do not rush into posting a contest because you are eager to reap the benefits. If you do not put in the time to pre-plan, your giveaway or contest will not reach its full potential!
Understand the RULES!!! (each site is different)
Yes, there are rules… and you need to figure them out!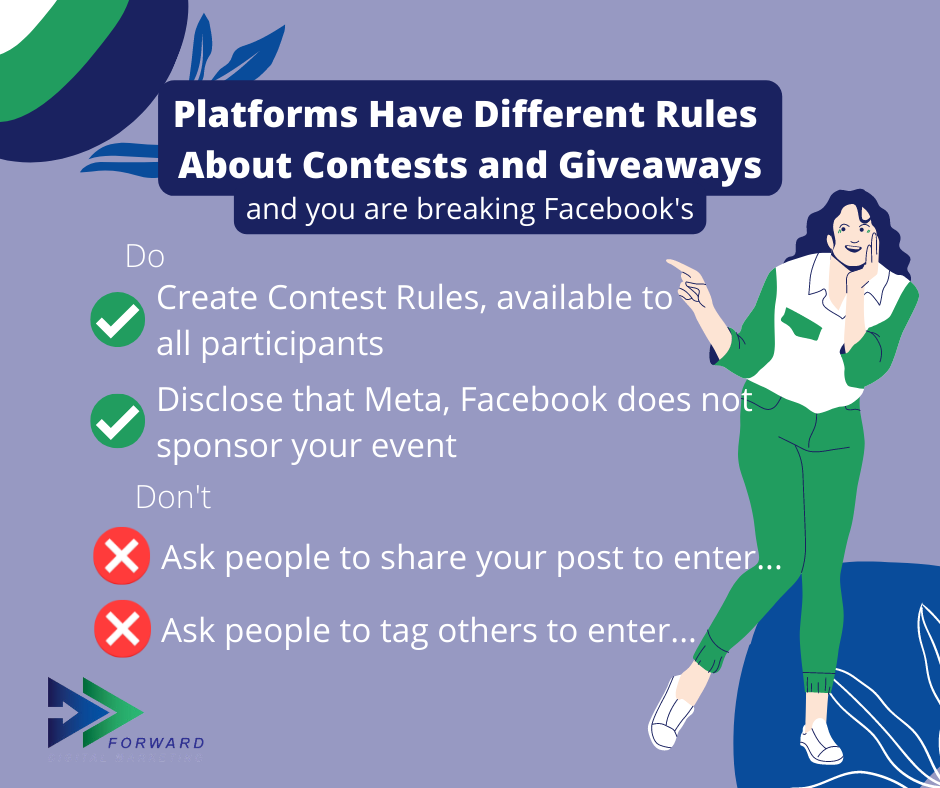 Facebook
You can check out the full list of guidelines here, but it is so important to remember that you need to define what the contest or promotion is, clearly. Also let your audience know that Facebook is in no way affiliated with or a sponsor of your contest.
Most importantly, you also cannot use friend connections to increase the reach of your contest on Facebook. This means you cannot have people share the post for more entries, or even tag their friends in a post as a form of entry.
Instagram
Instagram is now owned by the same business as Facebook, Meta. This makes the rules pretty similar, however it never states that you cannot use tags of other users in the comments, like Facebook discourages. Instagram does say that you cannot ask a user to tag themselves or their friends in a photo that does not show them or apply to them. Like Facebook, the contest owner must state that Instagram is not affiliated or a sponsor of the contest.
Twitter
Twitter's biggest concern is the creation of fake accounts… so their guidelines ensure that users running a contest or promotion discourage entrants from creating multiple accounts and tweeting the exact same thing repeatedly.
Run the Contest
Now is the easy part! Make your contest announcement, run some ads and boost the post to increase reach, cross-post on other platforms and through your email campaigns, and watch it take off!
Analyze the Results
Once the contest deadline has come and passed, you've announced your winner, and shipped off your prizes, now is the time to look at the new collected data. How well did your contest do? Have you achieved the SMART goal you set at the beginning of all of this?
Running contests should be about improving engagement, reach, followers, and potential customers! But do not let the fire burn out. Now that you have all of these improved metrics, it is time to get serious about building great content that will keep your audience engaged and producing conversions.
I Need Forward Digital Marketing's Help To Run A Contest!
We understand the ins and outs of social marketing, and we are data nerds! Who could be a better partner in running a successful contest? As Forward Digital Marketing, we can run social media audits before and after the contest to see just how well it did on your chosen platforms! We can crunch the numbers and measure your SMART goals for you, giving you the opportunity to focus on your growing business.
Running a contest to increase product sales? Let us help you build a beautiful e-commerce or Shopify website!
Whatever your business and goals, Forward Digital Marketing is here to help you!
Stay up to date on all things Forward by giving us a follow on Facebook and Instagram!